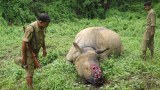 Play
Space to play or pause, M to mute, left and right arrows to seek, up and down arrows for volume.
Poaching - the daily threat to park rangers
A war is being waged around the world to try and protect wildlife and our remaining natural areas.
At the frontline of this war, 1000 rangers have been killed in 10 years – mostly by commercial poachers. Sean Willmore has worked with park rangers in over 50 countries. He gives a very sobering insight into the threats to rangers; but also shares funny stories about their interactions with animals ... and he promises hope.
Highlights from the 25th Birthday Iconic Lecture with Seam Willmore presented by The Bob Hawke Prime Ministerial Centre, University of South Australia. 16 March 2016
Original broadcast April 5, 2016.
Guests
Sean Willmore

President of the International Ranger Federation, Founder and Director of its charity arm The Thin Green Line Foundation
Further Information